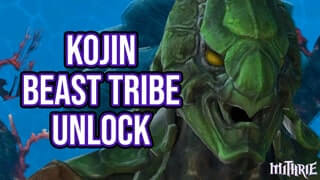 ☆ Kojin Beast Tribe ☆

Unlocking them will help you to level up your classes.

You can find them at Tamamizu, The Ruby Sea (X:29.3, Y:16.8).

You can unlock them by doing the following quest:
Heaven-sent - NPC: Vexed Villager
Level 60
The Ruby Sea (X:6.8, Y:13.3)

Players must first complete the main scenario quest "Tide Goes In, Imperials Go Out".

The Kojin Beast Tribe was added to Final Fantasy XIV in Patch 4.2.