FFXIV Tribal Quests: Kojin Unlock Guide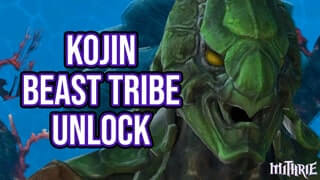 Why you should unlock the Tribal Quests?
Unlocking the Kojin will help you to level up your classes. Be sure to follow the below guide.

FFXIV has different beast tribes that you can do quests for and rank up with in order to unlock rewards including minions and mounts. This beast tribe has a focus on battle classes.
Unlock Guide
You can find them at Tamamizu, The Ruby Sea (X:29.3, Y:16.8).

You can unlock them by doing the following quest:
Heaven-sent - NPC: Vexed Villager
Level 60
The Ruby Sea (X:6.8, Y:13.3)

Players must first complete the main scenario quest "Tide Goes In, Imperials Go Out".

The Kojin Beast Tribe was added to Final Fantasy XIV in Patch 4.2.